Frederick George Worden
Family
Frederick George Worden was born on 3rd November 1881, the younger son of William Worden and his wife, Elizabeth Ann Boxall. William was born in Ilfracombe, the son of another William Worden, a painter and glazier, and his wife Grace. William Worden (senior) came to Dartmouth around 1856; by 1861, William was working with his father as his apprentice (along with his brother Samuel). Samuel, having completed his apprenticeship, moved to Saltash, and set up his own successful business there.
William Worden (senior) was not only a painter, but a prominent member of the town, and in particular of Dartmouth's Bible Christian community. According to a report in the Totnes Times at the time of his death, he was "first and foremost amongst those who got the Bible Christian Chapel erected many years ago in the New Road". After the chapel was sold to the Council for use as the Guildhall, "Mr Worden again worked assiduously and successfully in getting another new chapel built in the Newcomen Road" where the large congregation worshipped at that time. William Worden (senior) was also a member of the Town Council for several years, and a member of several Dartmouth societies, figuring frequently in the pages of the Dartmouth Chronicle.
In 1869, William (junior) married Elizabeth Ann Boxall (known as Bessie), the daughter of Henry Boxall, who was a member of the Coastguard Service. She had been born in Brixham but the family had subsequently moved to Kingswear. William and Elizabeth settled in Dartmouth after their marriage; at the time of the 1871 Census, they lived in North Ford Lane. William worked as a painter and plumber, probably as part of his father's business on Foss Street, which offered "painting, glazing, gas fitting, and paper hanging".
William and Bessie's first son, William Henry, was born on 1st September 1872 at Providence Cottage, Ford, Dartmouth; by the time of the 1881 Census, the family had moved to Croters Hill (now Crowthers Hill), where Frederick George was born on 3rd November of that year. That Census also recorded William Worden (senior) as "retired", though still living in Foss Street; trade directories for the period show "William Worden" running a plumbing and painting business in Foss Street, suggesting that William (junior) took over his father's business. His younger brother Frederick (born c 1856/7) also worked in the business as a house painter and decorator.
William Worden (senior) died in Dartmouth on 4th October 1890, and was buried in St Clements, Townstal, alongside his wife Grace, who had died two years earlier. William and Bessie moved into the premises in Foss Street, with William Henry, aged 18, and Frederick George, aged 8. Also living with them as a "boarder" was William's younger brother, Frederick (born c1856/7). William, William Henry, and William's brother Frederick all worked in the business.
In 1892 William and Bessie had a third son, whom they named Herbert Charles, but sadly the little boy died the following year, aged only 15 months. He was buried in the family grave, with his grandparents, at St Clements. William does not seem to have followed his father on to the Council, but the family was much involved with Dartmouth Football Club (as the rugby club were called), where William Henry made many appearances playing for Dartmouth, captaining the team in 1895 and 1896. References to him playing cease in 1899, suggesting this may have been when William, Bessie, and the two boys left Dartmouth. William's younger brother Frederick did not go with them, but remained in the town.
The 1901 Census recorded William, Bessie, William Henry and Frederick George living in 4 North Road, Saltash. Why they moved there is not known, but it may have been connected with the business of William's elder brother Samuel. According to an obituary published in the Western Morning News in 1911 after his death, Samuel had established a substantial business as a painter and decorator and "carried out many important contracts in connection with the forts round Plymouth". He retired in 1908 but neither of his two surviving sons followed him into the business. William may have moved to Saltash to assist his elder brother in keeping the business going. The 1901 Census showed that William and William Henry continued to work as painters and decorators in Saltash. Frederick George, by then aged 19, followed the same path; he was an apprentice painter, presumably working with his father.
Perhaps, however, Frederick George was not suited to the family trade, because on 27th January 1903 he joined the Army Ordnance Corps, attesting in Devonport. His attestation papers state that he had some experience, for he belonged to the 2nd Volunteer Battalion of the Duke of Cornwall's Light Infantry. From these papers we know that he was 5ft 10ins in height, with brown hair and brown eyes and a "fresh complexion". He gave his age as 20 years (and two months), though he was in fact 21. His previous trade was that of a painter. He reported for duty at Woolwich on 30th January 1903 but lasted eleven days, being discharged on 11th February as "not likely to become an efficient soldier". Why the Army Ordnance Corps reached this conclusion does not appear in his record. The papers show that the family, including his elder brother William Henry, were still living at that time at 4 North Road, Saltash.
We have not been able to trace Frederick George or any of his immediate family in the 1911 Census. However, William and Frederick George both attended Samuel Worden's funeral in Saltash in June 1911 (along with many other relatives and friends), and at that time, William was described as from Dartmouth, so it seems that he and Bessie may have returned to Dartmouth at this time. William died on 12th April 1917, and was buried in the family grave with his parents at St Clements. In the 1918 Electoral Register, Bessie's address was 4 Ford Cottages, Victoria Road.
Service
Frederick George's service papers for the period of the Great War have not survived (though those relating to his earlier enlistment have). Soldiers Died in the Great War states that he enlisted in Saltash, suggesting that he remained there when his parents returned to Dartmouth. So far, very little information has come to light to give an indication of when he might have joined, or been conscripted. Frederick's service number, 205052, is one of those allocated to the 4th Battalion of the Devonshire Regiment when the Territorial Force infantry was renumbered at the beginning of 1917. The original 4th Reserve Battalion was a Territorial Force battalion mobilised at the start of the war and sent to India. As further TF units were raised, the original battalion became 1/4th, and the later ones, 2/4th and 3/4th. According to the Long Long Trail, the 3/4th Battalion was renamed the "4th Reserve Battalion" in April 1916, and absorbed the 3/5th and 3/6th Battalions in September 1916 at Hursley Park, Winchester.
Comparison of his service number with similar numbers of men whose service papers have survived suggests that Frederick might have enlisted under the Derby scheme and been mobilised into the 4th Reserve Battalion. As 205052 is the only number included for him on the Devonshire Regiment Medal Roll, and the 8th Battalion is the only unit mentioned, this indicates that he did not go overseas until the new number was allocated, and served only with the 8th Battalion. How long Frederick served with them in 1917 is not known. At the time of his death, he was ranked Corporal.
For the experiences of the 8th Battalion, including their participation in the Battle of Broodseinde, a phase of the Third Battle of Ypres, from 4th-7th October 1917, see the story of John Samuel Webber who had served with the Battalion since they had gone to France in 1915.
Death
Available records state that Frederick was killed in action on 4th October 1917, the first day of the battle. His name appeared along with John Webber's in the casualty list of 8th November 1917, published on 13th November 1917.
His mother does not seem to have placed any announcement of his death in the Dartmouth Chronicle.
Commemoration
As one of 35,000 men of British and New Zealand forces who died on the Ypres front between August 1917 and November 1918, whose body was either not found or not identified, Frederick is commemorated on the Tyne Cot Memorial Wall to the Missing, which surrounds the Tyne Cot Cemetery. Tyne Cot was originally a barn, around which were several fortified "pill boxes"; it was captured by the 3rd Australian Division on 4th October 1917, during the Battle of Broodseinde, the same day as Frederick's death.
After the war, most surviving pill-boxes were dynamited by specialist contractors, and the material used to improve local road surfaces. However, the pill-boxes near Tyne Cot Cemetery were not destroyed, to prevent damage to graves, and were subsequently incorporated into the design of the Memorial. Frederick is thus commemorated quite close to where he died.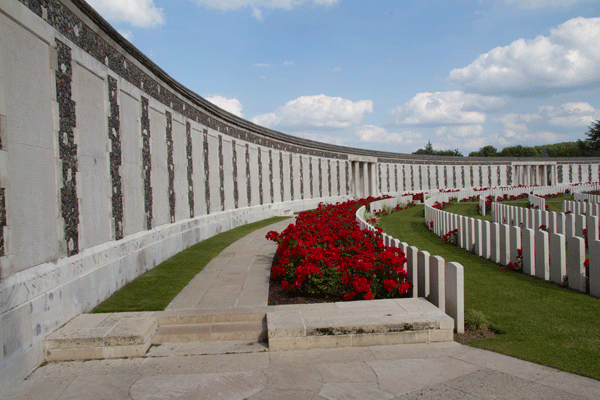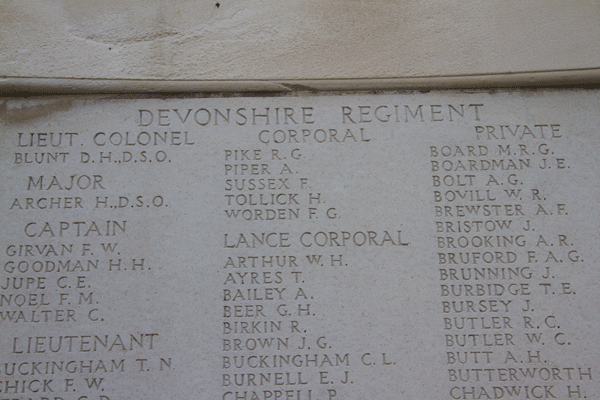 Tyne Cot Memorial
In Dartmouth, Frederick is commemorated on the Town War Memorial and the St Saviour's Memorial Board.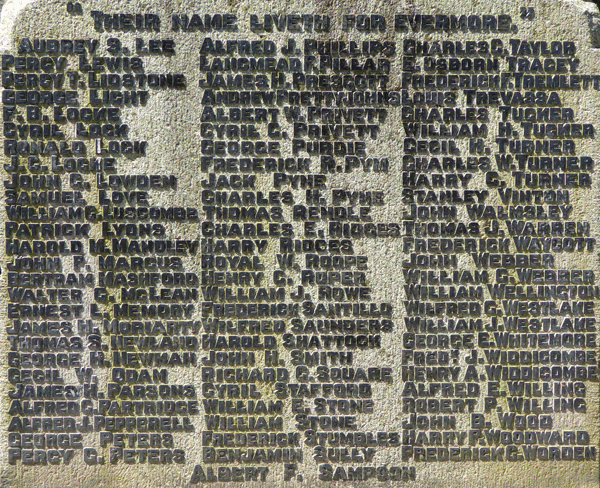 Dartmouth Town Memorial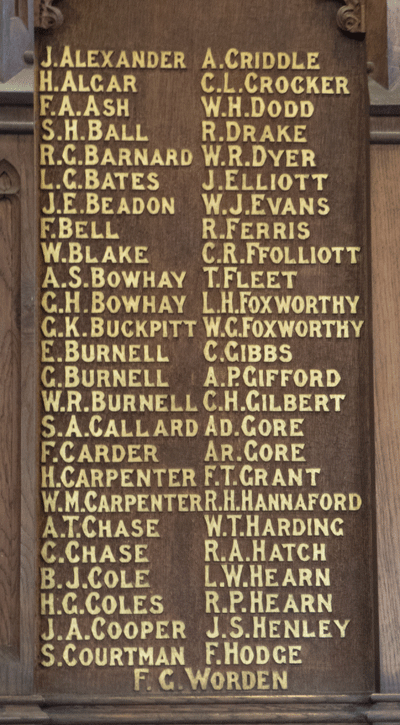 St Saviour's Memorial Board
Sources
Attestation papers for Frederick George Worden's pre-war service with Army Ordnance Corps held at the National Archives, accessible on subscription websites.
The Long Long Trail: Renumbering the Territorial Force infantry in 1917
Information Held on Database
| | |
| --- | --- |
| Surname: | Worden |
| Forenames: | Frederick George |
| Rank: | Corporal |
| Service Number: | 202052 |
| Military Unit: | 8th Bn Devonshire Regiment |
| Date of Death: | 04 Oct 1917 |
| Age at Death: | 35 |
| Cause of Death: | Killed in action |
| Action Resulting in Death: | Third Battle of Ypres |
| Place of Death: | Beselare, Belgium |
| Place of Burial: | Commemorated Tyne Cot Memorial, Belgium |
| Born or Lived in Dartmouth? | Yes |
| On Dartmouth War Memorial? | Yes |
| On St Saviour's Memorials? | Yes |
| On St Petrox Memorials? | No |
| On Flavel Church Memorials? | No |
| In Longcross Cemetery? | No |
| In St Clement's Churchyard? | No |
| On a Private Memorial? | No |
| On Another Memorial? | No |
---
This information was last updated on Saturday 07 October 2017 at 00:16:27.