Harold Wilton
Harold Wilton was born on 6th September 1890 in Dartmouth and baptised at St Saviour's three weeks later, on 27th September. He was the second son, and third child, of Thomas Wilton and his wife Annie Bennet.
Thomas Wilton was a leading businessman in Dartmouth and Mayor of Dartmouth throughout the Great War. He was born in South Shields in 1860, where his father, Thomas Penn Wilton, was a staithman in the coal trade, weighing and shipping coal. In 1880 he married Annie Bennett, also from South Shields, and in 1883 went into the wholesale coal trade. The couple came to Dartmouth in 1885, when Thomas was appointed the agent for Cwmanan Coal Co, of Cardiff, which had a bunkering business in Dartmouth. During this period the coal bunkering trade became Dartmouth's staple industry, employing at its height some 300-400 men.
Thomas and Annie had five children, all born in Dartmouth: Editha, born in 1886, Thomas, born in 1888, Harold, born in 1890, Clifford, born in 1892, and Eric, born in 1895. At the time of the 1891 Census, when Harold was six months old, the family lived in 9 Mansard Terrace, Dartmouth.
That year, Thomas Wilton left the Cwmaman Coal Co. when it sold its interests in Dartmouth, and soon after, formed a partnership with R D Renwick of Torquay, who was engaged in the wholesale house coal and gas business. Thomas Wilton was then responsible for rapid development of the firm's business, first mainly supplying local gasworks and commercial concerns with coal imported over the Kingswear wharfs, but then expanding into the bunkering business and acquiring colliers to maintain supplies. When R D Renwick died in 1911, Thomas became the sole partner.
In 1892 he was elected to the Dartmouth Town Council for the first time, and that year, bought Hawarden, a large house in South Town, from its builder, James Voisey, where the family lived for nearly thirty years, and where Harold grew up.
Thomas's business interests continued to thrive and expand, and his importance and influence in the town's affairs continued to grow. He became the town council's representative on the Dartmouth Harbour Commission in 1899, and was elected Mayor for the first time in 1900. But he suffered a great loss personally when Annie died in 1902. Harold was twelve and the youngest child, Eric, only seven. Thomas married again in 1904. His second wife was Alice Lucy Quartly, from a prosperous farming family in North Devon, fourteen years his junior.
Harold's elder brother Thomas followed his father into his business interests. Harold chose the law as his profession and served his articles with Windeatt and Windeatt of Totnes (still in business). He was admitted as a solicitor in 1913 and went to work for the London firm of Ballantyne, Clifford & Hett.
Service
Harold Wilton was appointed Second Lieutenant in the 2nd Devonshire Battery, 4th Wessex Brigade, on 29th July 1908, and promoted Lieutenant on 11th June 1909.
The 4th Wessex Brigade was one of the three field gun brigades of the Wessex Division, one of the fourteen divisions of the Territorial Force established in the Haldane reforms of the Army of 1908. The 2nd Devonshire Battery was based in Paignton and recruited many men from Dartmouth and surrounding villages.
Harold had resigned his commission as Lieutenant on 18th April 1914. However, at the declaration of war his resignation was cancelled and he rejoined his battery when it was mobilised for full time war service on 5th August 1914. The Dartmouth Chronicle of 18th September 1914 recorded that he was the second in command of the Dartmouth detachment of No 2 Battery. The second lieutenant was his younger brother, Eric.
In September 1914, the government of India agreed to send 32 British and 20 Indian army battalions from India to the front line in Europe. To provide garrison troops in India, the Wessex Division was sent in their place. Units assembled at Southampton on 9th October and arrived, via Malta and Suez, at Bombay a month later. The Dartmouth Chronicle of 27th November keenly reported their progress to what must have seemed exotic locations:
Nine battalions of Territorial infantry and eleven batteries, all belonging to the Wessex Division, which arrived in Bombay on November 9th, have now been drafted to the various stations where they are destined to spend their period in India. The 4th Wessex Brigade RFA includes a large number of Dartmouth men ... The 4th Devonshires have gone to Fenczepore, the 5th to Multan, which is a city of the Punjab, 200 miles south-west of Lahore. The 5th Somerset Light Infantry have been sent to Madras and Jubbulpore, the 4th Dorsetshires to Mhow, and the 4th Wiltshires to Delhi. The 5th Hampshires are stationed at Poona and Allahabad, the 6th at Dinapore, and the 7th at Bombay ... The 1st Devonshire Battery is at Allahabad, the 2nd at Dinapore, and the 3rd at Barrackpore.
The newspaper also included extracts from letters home from the men. Private J F Pound, a member of No 2 Battery, wrote about the comforts they were experiencing:
We left [the docks] on Wednesday evening at nine o'clock and arrived at Dinapore on Saturday afternoon at four o'clock, covering a distance of 1056 miles in 67 hours ...The railway is worked like ours at home, but the carriages have more windows and the seats are hard boards ...When we arrived at the cantonment all the horses were taken away and put in stables by natives ...We then had some supper, which was cooked by natives, but which was very good ...Our beds are of iron with one mattress of hair, one bolster, three sheets, and one blanket. There is a carpet and also a box to keep our kit in, and each has a basin to wash in. When we awoke in the morning we had tea brought in and a native came to shave us and ... clean boots and buttons. The buildings are large and cool ... there is a reading room, and wet and dry canteens.
Death
But only a week after this encouraging news, the Chronicle sadly reported Harold's death in a shooting accident. He had been in India only three weeks.
Captain H Wilton Fatally Injured
It is with the deepest regret we have to announce the death, on Saturday last, of Captain Harold Wilton, No 2 Battery, 4th Wessex Brigade, RFA, stationed at Dinapore India, second son of Mr T Wilton, JP, CC (Mayor of Dartmouth).
On Friday last, Mr Wilton received a telegram conveying the information that his son had met with a shooting accident and had been badly injured, and on Sunday the sad news was received that the injuries had proved fatal.
Throughout the whole town the greatest sorrow was caused by the untimely death of the young officer, and on Sunday the borough and other flags were at half-mast ...
Elsewhere the paper commented:
The sympathy of the whole of the burgesses is with the Mayor and his family in their particularly sad bereavement. Once again the hand of death has claimed a young life full of promise, one who was esteemed by all who knew him. By the death of Captain Harold Wilton, the men of the 4th Wessex Brigade have lost a good officer, and one whose place it will be difficult to fill. Although the deceased young gentleman succumbed to injuries accidentally received, he was a true patriot, and died while in the service of his King and Country.
Harold died on 28th November 1914 and was buried in Dinapore Cemetery the following day.
Commemoration
Although Harold's death was reported widely in local newspapers in the South-West, his name was not included on any public memorial in Dartmouth. However, he is commemorated on the private family memorial in Longcross Cemetery, which also commemorates other members of his family, including his mother and father. He is therefore included on our database.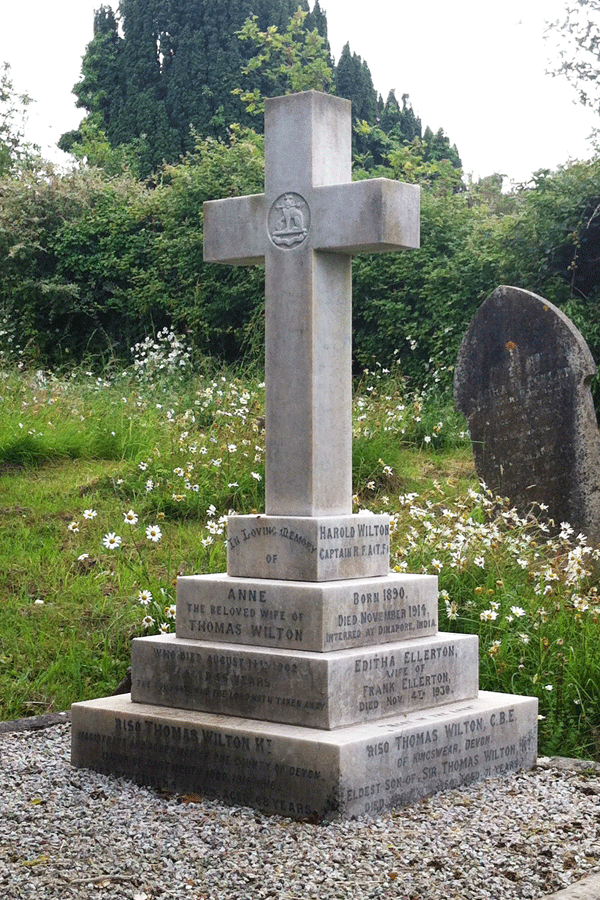 Information Held on Database
| | |
| --- | --- |
| Surname: | Wilton |
| Forenames: | Harold |
| Rank: | Captain |
| Service Number: | |
| Military Unit: | 2nd Devon Battery, 4th Wessex Brigade, RFA |
| Date of Death: | 28 Nov 1914 |
| Age at Death: | 24 |
| Cause of Death: | Shooting accident |
| Action Resulting in Death: | |
| Place of Death: | Dinapore, India |
| Place of Burial: | Dinapore, India |
| Born or Lived in Dartmouth? | Yes |
| On Dartmouth War Memorial? | No |
| On St Saviour's Memorials? | No |
| On St Petrox Memorials? | No |
| On Flavel Church Memorials? | No |
| In Longcross Cemetery? | Yes |
| In St Clement's Churchyard? | No |
| On a Private Memorial? | Yes |
| Name of Private Memorial: | Wilton Family Memorial |
| On Another Memorial? | Yes |
| Name of Other Memorial: | Dartmouth Chronicle Obituary |
---
This information was last updated on Friday 28 November 2014 at 02:40:31.