Percy Cyril Peters
Family
Percy Cyril Peters was born in Dartmouth early in 1897. According to census records, he was the tenth of eleven children of William Henry (sometimes just Henry) Peters and his wife Sarah Andrews.
William Henry Peters was not a native of Dartmouth, being born in Tiverton, the son of another Henry Peters, a lace maker. Like so many, it was the Navy which brought him to the town. He joined the Navy as a boy of 15 in 1865, with the consent of his parents, entering upon a ten year engagement in 1868 and reaching the rate of Able Seaman in 1873. On 21st May 1874 he was appointed to HMS Britannia, in Dartmouth, and while serving there met and married Sarah Andrews, at St Saviour's on 19th December 1875.
Sarah was the daughter of John Andrews, a dealer in fish, who had come to Dartmouth from Cornwood, near Ivybridge, and met and married Sarah King, in 1836. They had a large family - Sarah (junior) was one of the younger children, born in 1857.
William Henry and Sarah at first settled in Dartmouth, as he was still serving in HMS Britannia. Their first child, Henry, was born in the town in 1877, and baptised in St Saviours. The following year, William Henry completed his ten year naval service engagement. Most probably because he had only recently married, he decided to sign on for another ten years, but to transfer to the Coast Guard Service, at the rate of Boatman. Coastguard Service avoided long appointments overseas, the Coastguard Stations were designed and equipped with living quarters for married men as well as single, and the rates of pay were comparable.
William's role in the Coastguard Service took the family to Sussex, first to Elmer, near Bognor, for three years, followed by Felpham, also near Bognor, for another three years, and then nearly five years at West Wittering. During this time, according to Census records, the couple had five children: Florence Rose, Alice Minnie, William John, Cecil Maurice, and Frances Bessie. William Henry was promoted to Commissioned Boatman in 1884.
A glimpse of life at this time in the Coastguard Service is provided by an exchange in the Houses of Parliament in 1887: a Mr Norris asked Lord George Hamilton, the First Lord of the Admiralty: "For what number of men the Coastguard station at Felpham, on the coast of Sussex, was constructed; how many are now stationed there, and what duties they perform; if he will state the average number of sailors engaged on Coastguard duty in the United Kingdom; under what regulations appointments are made to this service, both as to officers and men; and, if the pay of all ranks is the same as on service afloat?"
Lord George Hamilton replied: "The Coastguard station at Felpham was constructed to accommodate one officer and 15 men. It is at present occupied by one officer and 10 men, whose duties are to watch the coast for the suppression of smuggling and for the protection of revenue generally. They also look out for wrecks and protect fisheries. There are about 3500 men in the force, which is recruited from the Royal Navy by men who volunteer for this service. The pay is not identical with that of the Service afloat, as an allowance for subsistence is given in lieu of provisions; but it is practically the same".
On 7th December 1889, William Henry completed his further ten years for pensionable service and retired. The couple returned to Dartmouth, Sarah's home town, where their seventh child was born. Robert George Peters was born on 1st September 1890, and baptised at St Saviours on 8th Feb 1891. William Henry took a leaf from his father in law's book and was now working as a fishmonger. In the 1891 Census, however, he was recorded as a Naval Pensioner, and his wife Sarah was recorded as "fish saleswoman".
George Peters, as he was subsequently known, is also on our database. His story will be published on 26th September 2016.
According to census records, four more children were born in Dartmouth: Frederick Arthur, Sarah Beatrice Gwendoline, or "Dolly", Percy, and Violet Ivy. In 1891, the family was recorded living in Newcomen Road, and in 1901, when Percy was four, the family was living in Silver Street - now Undercliffe.
Percy's father, William Henry, died in 1909, and was buried at St Clement's Townstal on 17th November. One of Percy's elder brothers, Frederick, had also died the year before, and he too was buried at St Clement's. By the time of the 1911 Census, only the three youngest of Sarah's children were living with her, still in Silver Street. "Dolly" was in domestic service, Percy was a grocer's errand boy, and Violet was still at school.
Henry junior had followed his father into the Navy. William was married, and owned a boat for hire. George, his younger brother, lived with him and worked as a coal lumper in Dartmouth. Cecil also worked as a coal lumper. Florence had married and moved away, (Alice) Minnie had married and still lived in Dartmouth, Frances had not married but had moved away.
Service
Percy Cyril Peters was one of those in Dartmouth who stepped forward at a big recruiting meeting held on 3rd September 1914. He joined the 8th Battalion Devonshire Regiment, along with many others in Devon, including several from Dartmouth. The 8th Battalion was the first of the Kitchener or "Service" Battalions to be formed by the Devonshire Regiment and was filled quickly. By 8th September the Battalion was in training in Aldershot.
Percy would have been 17 on enlisting. Before the war, it had been the rule that those under nineteen should not be able to join the Regular forces, with a bar on service overseas until twenty years of age. When war broke out, enlistment into the army was altered to a minimum of 18 years, with a bar on going abroad until nineteen. Percy's papers have not survived, but as with many others, either Percy overstated his age at this time, or the recruiting sergeant turned a blind eye.
Percy's service papers have not survived but the 1915 Star Medal Roll confirms that Percy arrived in France with the 8th Battalion on 25th July 1915. For the Battalion's experiences until 8th September 1915, please see the story of Andrew Prettyjohn, killed by sniper fire on that day.
For the Battalion's experiences at the Battle of Loos on 25th September 1915, please see our separate article.
Death
On 8th October 1915 the Dartmouth Chronicle carried a short announcement:
Dartmouth Soldier Killed
We regret to have to record the death of yet another Dartmouth soldier - Pte Percy Peters, of the 8th Devon Regiment (Buller's Own).
The late Pte Peters was killed in action during the Franco-British advance.
Percy's was the first Dartmouth death arising from the Battle of Loos to be announced locally. He was 18.
Commemoration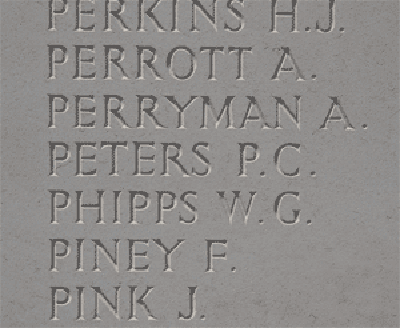 Loos Memorial
Loos Memorial and Dud Corner Cemetery
Percy is commemorated in France on the Loos Memorial on the periphery of Dud Corner Cemetery, close to where he died, together with seven other men commemorated in Dartmouth who joined the 8th Battalion Devonshire Regiment when he did, and died, or who are considered to have died, on 25th September 1915:
As one of the 579,206 casualties in the region of Nord-Pas-de-Calais, Percy is also commemorated on the new memorial at Notre Dame de Lorette, "The Ring of Memory".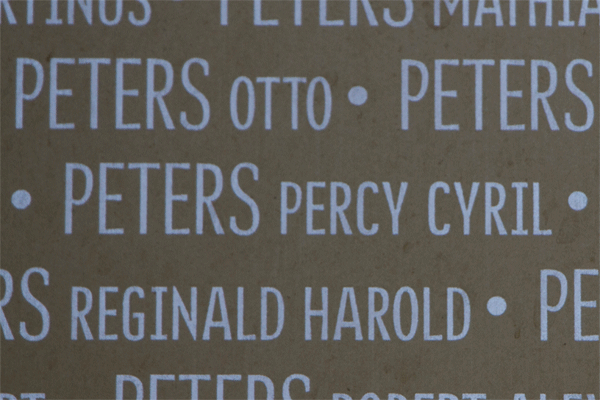 Ring of Memory memorial at Notre Dame de Lorette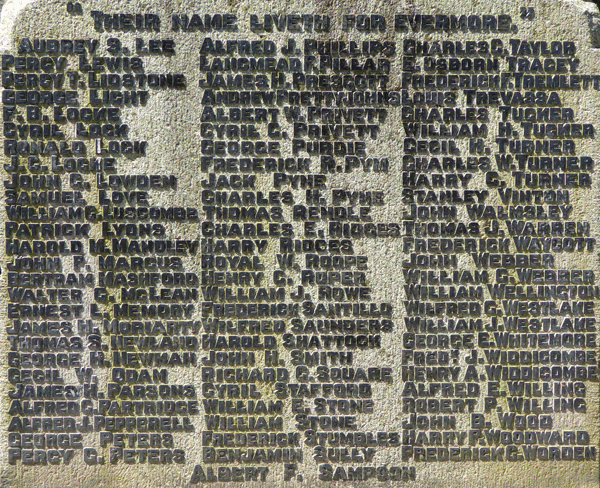 Dartmouth Town Memorial
St Petrox Memorial Board
In Dartmouth he is commemorated on the Town War Memorial, on the St Saviour's Memorial Board, and on the St Petrox Memorial Board.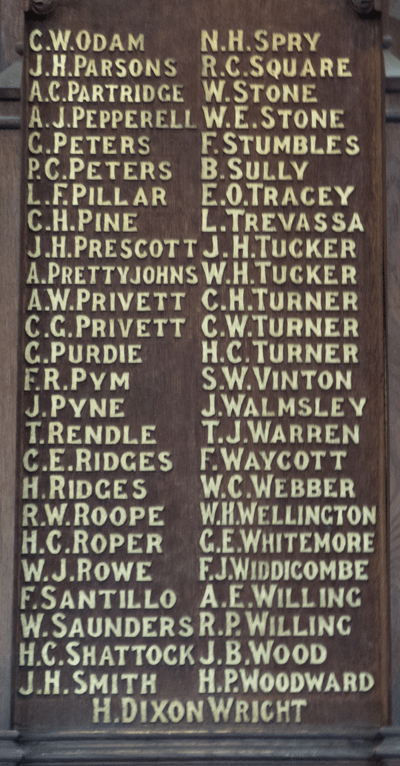 St Saviour's Memorial Board
Sources
Naval record of (William) Henry Peters available for download (fee chargeable) from The National Archives, references ADM 188/51/67944 and ADM 139/729/32882
Article on the Coastguard Service
Information Held on Database
| | |
| --- | --- |
| Surname: | Peters |
| Forenames: | Percy Cyril |
| Rank: | Private |
| Service Number: | 10771 |
| Military Unit: | 8th Bn Devonshire Regiment |
| Date of Death: | 25 Sep 1915 |
| Age at Death: | 18 |
| Cause of Death: | Killed in action |
| Action Resulting in Death: | Battle of Loos |
| Place of Death: | Loos, France |
| Place of Burial: | Commemorated Loos Memorial, France |
| Born or Lived in Dartmouth? | Yes |
| On Dartmouth War Memorial? | Yes |
| On St Saviour's Memorials? | Yes |
| On St Petrox Memorials? | Yes |
| On Flavel Church Memorials? | No |
| In Longcross Cemetery? | No |
| In St Clement's Churchyard? | No |
| On a Private Memorial? | No |
| On Another Memorial? | No |
---
This information was last updated on Sunday 09 July 2017 at 22:06:42.